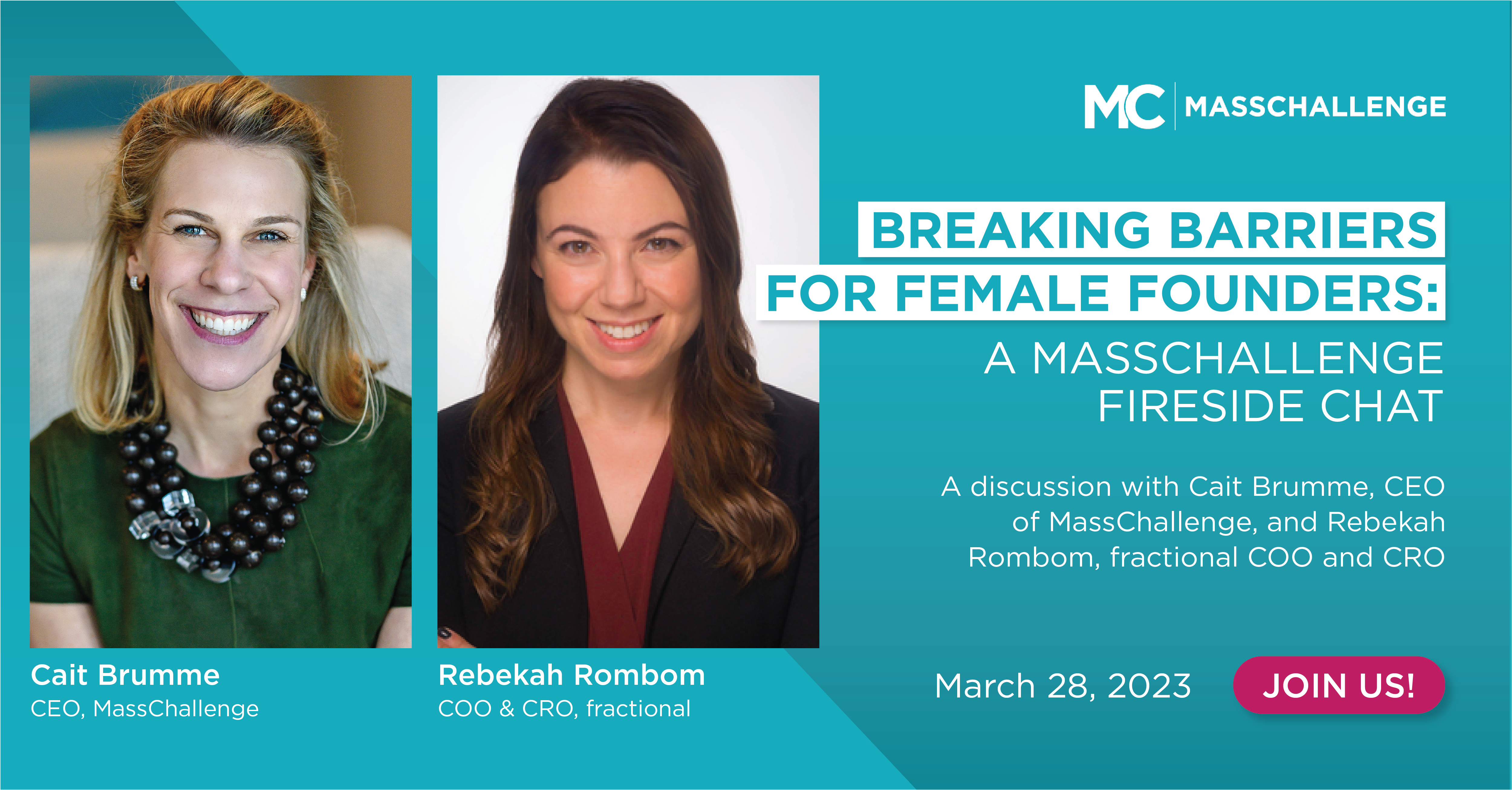 A Free Event for Female Entrepreneurs and Founders.
According to a report by American Express, there are nearly 13 million women-owned businesses in the U.S. This figure represents 42% of all companies in the U.S. That means women own 4 out of 10 businesses, and these businesses generate about $1.8 trillion annually. While women impact-first entrepreneurs are just as growth-oriented as their male counterparts, the primary difference is in their access to funding and community.
In this discussion, Cait Brumme, CEO of MassChallenge, and Rebekah Rombom, Founder and fractional COO and CRO, will discuss the ways female founders can address barriers such as limited funding, gender biases, and limited community support that have kept women out of entrepreneurship for decades.
In this chat, we'll look at ways to address:
Barriers, such as access to funding, lack of community, and lack of equity in male-dominated sectors.

How to think about risk vs. upside in entrepreneurial choices

How to gain the experience to get comfortable taking risks or launching your own endeavor

How to build a network of support and find mentorship and community
Join us on March 28, 2023 at 12pm ET, for a virtual Fireside Chat for women entrepreneurs and innovators looking to learn and connect with a global network.
Reserve Your Free (Virtual) Seat!
As an organization, MassChallenge has connected high-impact, high-potential founders to the knowledge, networks, and connections that create outsized impact on their companies and, therefore, the world.
By design, our non-profit, no-equity, community-driven mission and model provide equitable access to quality resources to drive direct impact for founders and sector-level impact for communities. Over the last 12 years, we have supported over 4,000 startups that have gone on to raise well over $9B in funding. In 2022, we operated in 18 other countries across North America, Asia, Africa, Latin America, and Europe, where we empower local communities with entrepreneurship.
Equity is at the center of the MassChallenge mission and model. We believe in a future in which those most proximate have equal opportunity to solve the problems they see in the world regardless of who they are, where they are from, or who they know. In 2022, we continued our focused effort to provide resources and tools to new regions and industries to drive diversity in innovation and decentralize "who" gets to innovate "where." Specifically, this work includes our multi-year effort to build DEI into the DNA of the startup ecosystem and to expand our network to support entrepreneurs in emerging ecosystems.