Fast Track 2020 Startups testing transformative solutions addressing Whole Health
February 19, 2020-- The Fast Track to Scale Accelerator has selected the participants for the validation phase of our inaugural year program. The Fast Track 2020 Startups were selected from 126 applicants from 13 different countries. The accelerator matches talented entrepreneurs from around the world with the Fast Track to Scale champions — Anthem and a group of industry-leading employers – to find innovative solutions that improve individuals' health and well-being and enhance their healthcare experience.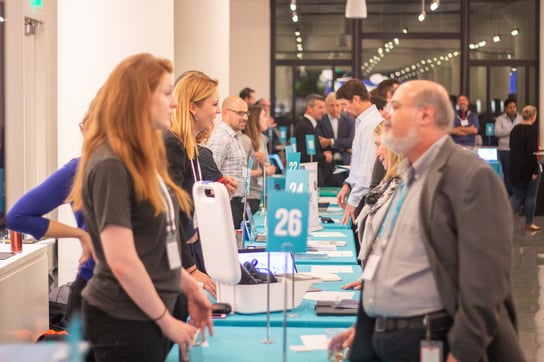 Participating startups at the matchmaking event.
"A first of its kind, the Fast Track to Scale Accelerator is a unique model positioned to disrupt traditional accelerator programs and redefine the future of health," says Mariya Filipova, VP of Innovation at Anthem. "Anthem is excited to help these 2020 Fast Track Startups redefine healthcare by addressing care management, addiction, cardiac rehabilitation, chronic pain management, and caregiving."
Mariya Filipova, VP of Innovation at Anthem, at a Fast Track 2020 workshop with Lisa Ledford-Crissey, VP Clinical Systems and Reporting.
The Fast Track 2020 Startups will have access to resources, tools, expertise, and Anthem's Digital Data Sandbox* to test and validate their solutions, ultimately accelerating their path to scale.
"The Accelerator provides the missing piece for start-ups to scale: access to certified de-identified data to test their solutions, expertise to navigate the complexities of our industry and a digital platform to integrate into," says Rajeev Ronanki, Chief Digital Officer at Anthem.